Babarpur nilkuthy seba sadan NGO Website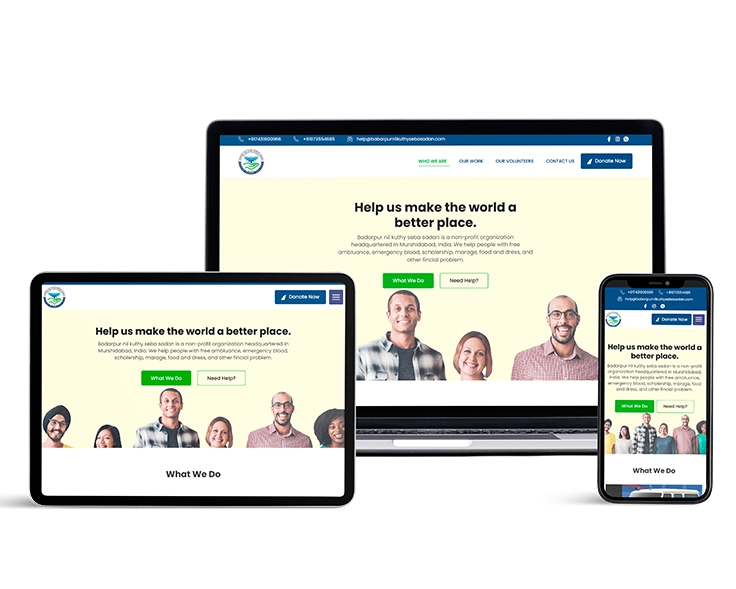 My contribution
Design
Front-End-Development
Wordpress Development
Woocommerce Customization
Woocommerce Bug Fix
View Website
Project detais
Babarpurnilkuthysebasadan is a local NGO based in Murshidabad, West Bengal, India, committed to serving the community and providing assistance to those in need. The primary objective of this project is to design and develop a user-friendly website that allows individuals to seek help and request various services provided by the NGO. Additionally, the website will facilitate donations to support the organization's activities and provide information about the NGO's dedicated team members.
Timeline and Milestones:
Website Design and Development: 1 week
Testing and Debugging: 1 day
Final Review and Launch: 1 day
Project requirements
The website should be built on a reliable and secure content management system (CMS) like WordPress.
Responsive web design is mandatory to ensure compatibility with various devices and screen sizes.
The donation platform should be integrated with a reputable payment gateway for secure transactions.
Regular backups should be implemented to safeguard data in case of unforeseen events.
The team profiles should be easily editable, allowing the NGO to update information as needed.
All content should be written with a focus on SEO to improve the website's online visibility.
Client testimonial
Rittick did an exceptional job developing our NGO website, 'Babarpur Nilkuthy Seba Sadan.' His creativity and innovative approach provided out-of-the-box solutions that perfectly aligned with our mission. His communication, technical knowledge, and attention to detail made the development journey smooth. We now have a visually appealing, user-friendly, and robust website to further our humanitarian efforts. Highly recommended for his passion and dedication to web development.

Alimoddin Mallick
Founder of the NGO